AFFORDABLE

PRICES

FRIENDLY

& TIDY

WORK

GUARANTEED

LATEST

TECHNOLOGY

​​DO YOUR WOODEN FLOORS IN YOUR KENT HOME NEED A LITTLE EXTRA LOVE AND ATTENTION?
​Maybe you've bought a business property that has some wooden flooring that has seen better days? Either way, wooden flooring does require specialist treatment to keep it looking its best and we think it deserves it.
​Your wooden flooring CT1, whether at home or at a business property, should be something to be proud of, not something to cover up with rugs and carpets. If your floors are a little worse for wear they can easily be renewed with help from Kent's leading wooden flooring specialists.
The Kent Floor Sanding company is dedicated to providing all our customers with great quality and great value. We have a specialised team of experts who offer a wide range of floor sanding and polishing services. We work tirelessly to ensure the wooden floors in Kent are finished exquisitely and we can be proud of every job we work on.
CHOOSING EXPERTS
​Once you choose to work with the CT5 Kent Floor Sanding company then everything is done at your convenience. One of our management team will come to your premises to conduct a free onsite consultation offering you samples of our work, quotations and a timescale for the work if you choose us.
We are experts in our field but we are still dedicated to offering value and a quick, non-hassle service. Our service includes a range of different eco-friendly colour stains, finishes and seals to choose from and we also leave you with a handy cleaning kit so you can ensure you maintain our good work.
PROFESSIONAL EXCELLENCE​
​In endeavouring to provide Kent ME14 with the best quality wooden floor sanding and related services we recognise our clients expect more than just our words. That's why we're proud to show you our Gallery of completed works for you to look through.
For Fantastic Wooden Floors Call 01233 690 119 Now !
LATEST NEWS, RECOMMENDED ARTICLES & TIPS
How to prevent and repair UV damage to your hardwood floors
We all love to maximise the amount of natural light coming into our homes, but have you ever considered the effect sunlight might be having on your hardwood floors? Try moving that floor rug and you may be surprised at the difference in colour between the floor underneath and the rest of the room.

In fact, prolonged exposure to UV rays can cause your floors to discolour, causing a chemical reaction known as oxidisation to occur. It's not so very different to what happens to your skin when you sunbathe, changing the colour but also drying it out and making it look dull. And just like your skin, your newly sanded wood floors will need protection against unnecessary damage.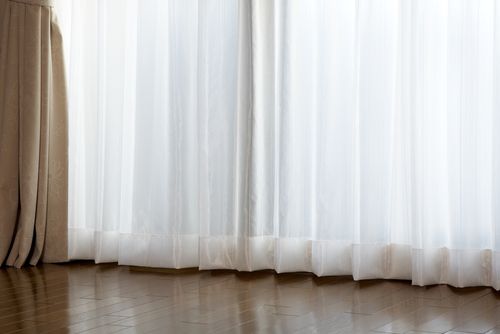 Prevention is better than cure

Putting up curtains or blinds will help to limit the amount of UV exposure, and interior shutters are a particularly stylish way to control the amount of sunlight hitting your floors. You could also invest in UV window film, which filters out the most harmful rays.

Once you've finished sanding hardwood floors, make sure the polyurethane you use contains a UV inhibitor. This is the smart choice if your floors are exposed to direct sunlight. Screen and refinish regularly to top up the protection and keep your floors looking like new.

Quick fixes for damaged floors

The first thing to try is moving your furniture around. This might not be the best option but it's a quick fix while you hire dust free sanding equipment or contact a floor sanding company regarding your refinishing options. You can also screen and recoat your floor to try and blend in the damaged areas, but the only real fix is sanding and refinishing.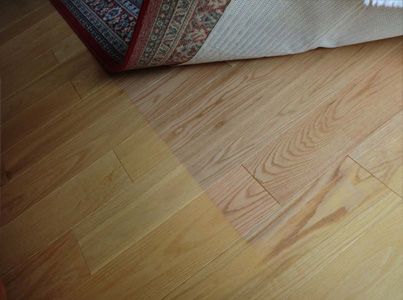 Sanding and finishing a sun damaged floor

Sanding your floorboards back to the raw wood is the only guaranteed way to remove the damage created by UV rays. It's also a good idea if your floors get a lot of sun exposure and you want to refinish them with a UV protector. You'll need to be absolutely meticulous at this stage, removing every scrap of the old finish. Once you've protected your floors with a UV inhibiting polyurethane, be sure to re-screen them every 3-5 years for optimum protection.
BEFORE & AFTER